Plausible deniability and graft by MNCs
Published May 25, 2014
Mak Yuen Teen
First published in Business Times, May 21, 2014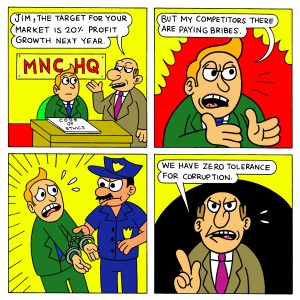 COPYRIGHT FOR ILLUSTRATION BELONGS TO MAK YUEN TEEN. USED WITH PERMISSION BY BT
THE report "Police charge former China head, 2 execs of GSK with corruption" (BT, May 15) suggests that GlaxoSmithKline's (GSK) bribery and price-fixing scandal in China may be more than a case of some rogue Chinese executives acting on their own. When four Chinese executives from GSK were first accused in July last year of bribing officials and doctors to boost sales and raise drug prices by funnelling up to three billion yuan (S$602 million) through travel agencies, GSK quickly distanced itself from the actions of the executives and called the allegations "shameful".
According to GSK, "certain senior executives of GSK China who know our systems well appear to have acted outside of our processes and controls which breaches Chinese law" (The Guardian, July 22, 2013). Andrew Witty, GSK's group CEO, said the drug firm had "no sense" of the "shameful" allegations.
Now, Mark Reilly, the former British head of GSK China, who stepped down from his position when the allegations first surfaced, has been accused of ordering his subordinates to form a "massive bribery network" that forced up drug prices and created more than US$150 million of illegal sales (The Independent, May 17). If the allegations against Reilly are true, direct involvement in the scandal has moved up the chain of command in GSK.
Of course, Reilly is still a long way from GSK's group headquarters based in the UK. Reilly reports to Abbas Hussain, president of Europe and Emerging Markets & Asia Pacific, who is part of the corporate executive team of GSK.
Despite the protestations of Mr Witty that the firm did not know about the alleged illegal actions of the executives, questions remain as to whether he and the board ought to have at least asked some probing questions when GSK China was reporting strong sales growth over the years preceding the scandal.
Corruption level
When the scandal was first reported last July, one online comment responding to the group CEO's denial of knowledge of the wrongdoing was rather blunt:
"Did you wake up from a 10-year nap yesterday? I'm shocked. Shocked. Of course they have zero tolerance for getting caught. In corporate speak, now it is about CYA. Usually the senior executives know what is going on, but they will turn a blind eye to the activities. They will congratulate the China office executives for the fantastic sales and profit and growing market share. But if the XXXX hits the fan, they suddenly can see the illegal practices by their China executives, ask for their resignation, make public apology, etc. Very smooth CYA. But this is typical corporate culture in most companies."
China has long been known for a culture in which drug companies make payments to doctors, since physicians rely on rewards for writing prescriptions to offset meagre salaries. Further, according to the Corruption Perceptions Index published by Transparency International, China was ranked 80th out of 176 countries in 2012, 75th out of 183 in 2011 and 78th out of 178 in 2010 in pubic-sector corruption. In terms of the World Bank Governance Indicators, China's Control of Corruption ranking has been consistently in the bottom 30 per cent (in contrast, Singapore is consistently in the top 10 per cent).
Just a year before the scandal broke in China, GSK had paid a record US$3 billion fine for misselling drugs in the United States, in a legal action which spanned more than four years. According to a report in The Guardian (July 25, 2012), GSK "had lavished entertainment on doctors, such as golf lessons and fishing trips, to entice them to promote its medicines".
In the face of well-known corruption in the industry in China and in China more generally, did senior management and the board ask how those high sales growth were achieved? Or were Reilly and the China executives just assumed to be aware of GSK's business code and comply with it? Was it a case of "don't ask, don't tell"?
This reminds me of a true story a former senior executive of a multinational corporation (MNC) shared with me. Following the Asian financial crisis in 1997, there was pressure in Asia on working capital. For the MNC concerned, "working capital" really meant debtors. A bonus plan was introduced rewarding a reduction in debtors.
One of the countries in the region had the lowest debtor days in the group globally. They achieved that by subcontracting debt collection to a firm owned by the military. At a Main Board budget review, a director asked "how do you achieve such a great debtor performance?" The CEO looked at the director and said: "Before I answer, are you sure you want to know?" There was a long silence, the question was never discussed and the meeting moved on.
The funny side was that one debtor did contact the regional office and asked if it was really necessary for the debt to be collected by soldiers in an armoured car! It is doubtful that such debt collection methods fit with the espoused values of the company.
MNCs today are extremely complex with business operations dispersed around the world and conducted through a web of subsidiaries, joint ventures, associates, special-purpose vehicles and other business structures.
Perhaps the board and senior management back in group headquarters really cannot be expected to know what is going on – or at least the complex chain of command provides them with a "plausible deniability" defence when things such as the GSK scandal occur. But should only the executives such as Reilly take the fall while senior management and the board escape accountability?
When companies such as GSK and many others do business in some of the most corrupt countries in the world where it is well known that paying bribes to get business is common, can they really claim that they did not know what was going on? Should they not have exercised more scepticism when their subordinates are reporting strong growth in markets well known for corruption?
While Reilly and the China executives cannot be excused from wrongdoing if the allegations are indeed true, MNCs often put their employees in an untenable position by expecting them to deliver strong financial results over a short time period in markets which are well known for corruption. Further, they are expected to comply with a business conduct code which says all the right things about zero tolerance for bribery, corruption and other forms of unethical behaviour on the one hand (like GSK does), while being incentivised to pursue aggressive growth through pay for performance plans, and buffeted by a fear for their career if they do not deliver, on the other.
In fact, GSK has an impressive 29-page document setting out its anti-bribery and corruption programme which was updated in 2010, following the introduction of the UK Bribery Act.
Difficult markets
How many CEOs and boards of MNCs have thought about the dilemmas that people such as Reilly and the China executives face when doing business in difficult markets such as China?
They would do well to read the blogs of Richard Bistrong, a former vice-president for international sales at Armor Holdings, who worked undercover for the authorities and spent 21/2 years as a government witness. Bistrong was jailed for conspiring to bribe officials to win contracts from the United Nations and several foreign countries. In a blog dated May 13, 2014, called "Rationalising Bribery: Corruption Has No Witness", Bistrong explained that there are usually no witnesses to overseas discussions involving an actual or potentially corrupt transaction
Usually, frontline sales, marketing and business development personnel travel alone overseas and meetings with agents or clients, including public officials, also usually occur without anyone else present. A close relationship usually develops between an overseas employee and intermediaries in the country, and the cultures in many countries lead to a great deal of social interaction outside of work hours.
In his own case, casual discussions often led to the agents explaining "in barely masked language" that they were paying bribes to win contracts. This put him in a dilemma. Should he withdraw from all transactions and inform the company's legal and compliance department?
As he explained: "For a sales, country manager, or marketing person, it is more than just walking away from a transaction, it means walking away from the entire third-party relationship. For these employees, there are not just short-term financial consequences, but also the loss of all future deals, sometimes with regional implications . . . if the C-Suite preaches compliance but the sales incentive package awards 'winning the sale' above all else, how will that employee determine whether management wants compliance or sales?"
With China determined to stamp out corruption, and Narenda Modi and his Bharatiya Janata Party winning the Indian elections on the back of a strong anti-corruption platform, the risks of executives of MNCs operating in these two major economies becoming Reillys will escalate considerably.
Countries where corruption has been accepted as part of the culture can suddenly change course with a regime change. The same thing could happen in African countries such as Nigeria where corruption is known to be high.
Executives who are in those countries are like playing a game of "pass the parcel", except it is more like a ticking time bomb. When the music stops, the executives who happen to be in charge will become the next Reillys.
It is time for senior management and boards of MNCs to stop hiding behind business conduct codes and anti-corruption and compliance programmes and a "plausible deniability" defence, and address more fundamental questions about the benefits and costs of doing business in highly corrupt countries, their business practices, and how they reward, retain and promote their employees.
The writer is an associate professor at the NUS Business School where he teaches corporate governance and ethics