Poking fun at corporate governance yet again
Published November 30, 2016
By Michelle Quah
First published in Business Times on November 28, 2016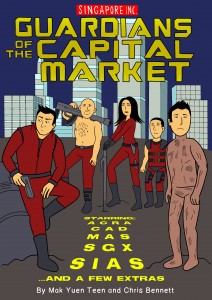 SOME see him as the caped crusader of corporate governance here, so perhaps it's apt that Mak Yuen Teen has drawn on his love of superhero comics for his latest publication, Guardians of the Capital Market – a nod to Marvel's Guardians of the Galaxy.
The 60-page book is the associate professor of accounting's second book of cartoons poking fun at a subject he typically takes very seriously: corporate governance.
"We have found corporate governance to be an almost never-ending source of ideas for cartoons, as there are so many situations we encounter that we could make fun of," he said.
"We" refers to Prof Mak and his fellow author, Chris Bennett, who also collaborated with Prof Mak on their first cartoon book, Directors Daze: The Lighter Side of Corporate Governance, which came out in 2014. Mr Bennett is a founder and director of BPA, an enterprise concerned with improving corporate governance through professional education, research, and advocacy.
As was the case with the first book, the second edition spares no one in its lampooning – not even the regulators of capital markets, who are the focus of this book.
As its foreword cheekily states: "Any resemblance to actual companies or persons is purely fortuitous."
Prof Mak, however, won't be pressed into revealing which of the "Guardian" characters on the cover of the book is intended to be the Singapore Exchange (SGX), the Monetary Authority of Singapore (MAS), the Commercial Affairs Department (CAD), and so on; he says readers will just have to guess which caricature resembles which party best.
The rest of the book draws on many contemporary references, in addition to the aforementioned Marvel comics, ranging from Pokémon Go to Star Trek, to make a point about some of the absurd corporate governance practices and situations that have arisen.
But the authors stress that this "doesn't mean that we treat the subject flippantly"; instead, "we'd agree with Simon Wiesenthal that 'Humour is the weapon of unarmed people: it helps people who are oppressed to smile at the situation that pains them'".
In fact, this approach – used in the first book – proved so popular that readers were clamouring for a sequel.
Prof Mak said, "Though many of our cartoons (in the first book) were inspired by developments in this region, we found that they travel quite well, suggesting that the problems that exist here also exist in other markets, including more developed markets. When we use the cartoons in our teaching and presentations, people love them."
Mr Bennett added, "One company secretary said that by giving the books to their directors, they were able to raise difficult issues more easily with them."
Mr Bennett said they also decided to embark on a second book, because they did not find much evidence that corporate governance practices have gotten significantly better. "Corporate governance significantly affects everyone, whether they are directors, investors, employees, suppliers, contractors, customers, tax payers, whether it be through pension funds and insurance policies, its impact on the environment, or in a combination of those ways. We think it needs to remain in the public eye and we still have things we want to say."
The cartoons, in this second edition, were done by South Africa-based cartoonist Alastair Laird.
Those interested in getting a copy can e-mail either Prof Mak at bizmakyt@nus.edu.sg or BPA Australasia at enquiry@bpa-australasia.com.
The proceeds from the sale of Guardians of the Capital Market will – as they were for the first book – be donated to charity. Details on the donations from the first book can be found at http://bpa-australasia.com/news.
"We raised more than S$10,000 for children's charities in Singapore the last time. So, we were able to do some good there in addition to promoting the message of good corporate governance and making people smile," Mr Bennett said.