Discipline needed when applying to delay AGMs
Published March 22, 2017
First published in Business Times on March 22, 2017
By Mak Yuen Teen and Chew Yi Hong
RULE 707(1) of the Mainboard and Catalist Rulebooks requires all issuers with a primary listing on Singapore Exchange (SGX) to hold their annual general meetings (AGMs) within four months after the financial year-end. They are also required to issue their annual report to shareholders and SGX at least 14 days before the AGM. The Singapore Companies Act requires listed companies to hold their AGMs within the same deadline and to send the audited financial statements and the auditor's report to shareholders at least 14 days before the AGM.
Some issuers apply for a waiver from Rule 707(1) in order to hold their AGM after the four-month deadline. Holding the AGM after the statutory deadline also requires the approval of the relevant regulatory authority. SGX typically expresses no objection to the AGM being held at a later date subject to certain conditions, one of which is that the relevant regulatory authority concerned also approves the extension. For Singapore-incorporated companies, the relevant regulatory authority is the Accounting and Corporate Regulatory Authority (Acra).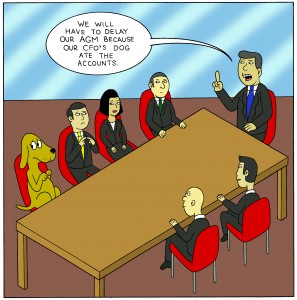 Illustration: Mak Yuen Teen, Chris Bennett
Issuers that apply for waivers to delay results announcements often apply for waivers from Rule 707(1) as well. Although regulators do grant waivers from Rule 707(1) in most cases, we are pleased that, based on what we have seen in 2016 compared to 2015, they appear to be getting stricter in doing so. In some cases, an application for a waiver or a further waiver was rejected by SGX. In at least six cases in 2016, SGX had granted approval for a waiver or further waiver subject to Acra also giving approval, but Acra subsequently rejected the application.
Issuers should get the message that extensions to release results or to hold AGMs are granted only in exceptional cases. Directors should be held accountable if such delays are due to their lax oversight.
Often, applications for waivers from Rule 707(1) are early indicators of bad news. Therefore, starting from our second yearly report on shareholder meetings last year, we looked at issuers that apply for waivers from holding their AGMs on time.
In our latest report due later this month, we found that 43 issuers made announcements related to a waiver from Rule 707(1). Some applied for multiple waivers. SGX requires issuers to give reasons for applying for a waiver – although some gave rather vague reasons.
Reasons for waiver
One issuer cited the requirement of another exchange where it has a dual listing for 21 days of notice of the AGM, need for translation, and resources being diverted in applying for the dual listing. Another was a new listing.
Four others cited cost savings reasons because of an impending delisting. Other reasons include change of external auditors, special audit or investigation, financial issues (including liquidation, judicial management, going concern problems), resignation or change of key finance personnel, and accounting or audit issues.
Accounting or audit issues were the most commonly mentioned reasons, with 17 of the issuers citing this as a reason, followed by financial issues, with 11 issuers doing so. Often, issuers provided multiple reasons, in which case we classified them based on what we consider to be the major reason.
Issuers were inconsistent in their disclosure of waivers. Some disclosed at the time of application and also when SGX informed them of its decision. Others disclosed only when they were informed by SGX. Some disclosed only when the AGM is already due or nearly due. We cannot even be sure if there were issuers that applied for and failed to obtain a waiver but did not make any announcement.
Delays without waivers
Take the case of YuuZoo Corporation, which in 2015 applied to delay its AGM by one month saying that it was informed by the auditors that the audited accounts would not be ready. The announcement was made only on April 30, the last day to hold its AGM, and in the announcement, it disclosed that it made the application to SGX on March 24. Only when the approval of the waiver was announced on May 8 were more detailed reasons for the delay provided. In 2016, YuuZoo again applied for more time to hold its AGM, this time citing "printing errors" in its annual report. The extension was not granted by SGX. YuuZoo eventually held its AGM on May 27, after its April 30 deadline. There were also some issuers that had applied for extensions of time to announce the full-year results later than 60 days after the end of the full year, as required under Rule 705(1), but did not apply for or announce a waiver to delay their AGM.
For example, China Fishery Group and Pacific Andes Resources Development announced at the end of 2015 and in early 2016 respectively that they have applied for extensions of time to announce the companies' full-year results for the financial year ended Sept 28, 2015. However, they did not announce any applications for waivers to delay their AGMs even though their 2016 AGM deadlines have long since passed – other than both issuing announcements at the end of 2016 that there will be delays to the FY2015 and FY2016 results announcements and AGMs.
The companies have gone totally quiet on their financial reporting for the past 14 months. While it may be somewhat understandable given the circumstances the issuers are in, shareholders are at a complete loss with regard to the financial position of the issuers.
Then there is the case of Transcorp Holdings, which on Dec 29, 2016, disclosed that it had applied for an extension of time to announce its full-year financial statements for the financial year ended Oct 31, 2016. The announcement on SGX was titled "Financial Statements and Related Announcement: Notification of Results Release". Only when one clicks on the announcement would one realise that it was actually an application for approval for an extension of time to announce the full-year results. It has yet to announce if it had obtained SGX's approval. Further, the company is now already past its four-month deadline to hold the AGM but there has been no announcement about the delay or about any application or approval for an extension. We would question the disclosure treatment of the announcement and would urge stronger oversight over how announcements are being made.
Questionable disclosure of waivers
Probably the worst case of questionable disclosures of waivers from Rule 707(1) was China Environment, an issuer which kept delaying its AGM.
On March 22, 2016, China Environment announced that SGX had informed the company that it had no objection to its AGM for the financial year ended Dec 31, 2015, being held two months late, by June 30, 2016. The company disclosed that it had applied for the waiver on March 4, 2016. The reasons it cited was "inter alia, timing considerations which make it unlikely that the Company will be able to finalise the Annual Report (including the Accounts) in time for it to be dispatched to shareholders of the Company and for the AGM to be held no later than 30 April 2016". What these "timing considerations" were or what caused them were unclear.
A week after its announcement, the executive chairman resigned, followed by the chief financial officer (CFO), the external auditor and two other executive directors in April. The new executive chairman who was appointed on March 9 then resigned less than six months after his appointment. There were other board and management changes.
Meanwhile, on June 16, the company revealed that it had to restate and re-file its financial statements for FY2013 and FY2014 under Acra's Financial Reporting Surveillance Programme. It disclosed that Acra had on Aug 21, 2015, issued a warning letter to two of its directors, followed by an advisory letter to the board of directors on Oct 23, 2015, with respect to the FY2013 financial statements. The audited financial statements for FY2015 would also be deferred until the completion of the FY2013 and FY2014 financial statements. Perhaps this was what the company meant by "timing considerations" in its application for the waiver almost three months earlier.
On June 22, the company announced an application to SGX for a further extension to Oct 7, 2016, to hold its AGM, citing the need to re-state and re-file its FY2013 and FY2014 financial statements. On Aug 12, the company disclosed that it had on July 26 applied to SGX again for an extension of time to hold its AGM by Dec 20, 2016, and that SGX had granted an extension on Aug 10. It cited the delay in the audit process for the FY2015 financial statements as a result of the need to restate and re-file the FY2013 and FY2014 financial statements.
On Oct 19, China Environment announced that it had on Sept 14 applied to Acra for an extension of the deadline to restate and re-file its FY2013 and FY2014 financial statements and table them at the AGM by Dec 20, 2016. It also disclosed that it had on Aug 15 applied to Acra for an extension of time to hold its AGM for FY2015 by Dec 20, 2016, and that Acra had approved it.
The company then announced on Nov 10 that it had applied for yet another extension to hold its FY2015 AGM by June 30, 2017. This time it cited "the recent lockout and power supply cut due to rental in arrears have created disruption to the local staff and Singapore management who are trying to prepare for the audit to be done" and that "one of the key accounting personnel, who handled all the major bookkeeping functions and coordinating the sales and purchase contracts had also resigned recently".
Finally, on Dec 21, the company announced that it had made a report to the Commercial Affairs Department against the former executive chairman and former CFO. Up till today, there is still no sign of the AGM.
In the light of situations such as these, we are recommending in our report that issuers should be required to make an announcement at the time when they apply for a waiver to delay the announcement of results or the holding of their AGM, with the reasons for the application. This is because such applications are often red flags that shareholders should watch out for. In fact, as a general principle, consideration should be given to requiring issuers that apply for waivers from any listing rules or statutory requirements to disclose such applications in a timely manner, and with reasons clearly stated.
We also recommend that issuers that are directed by regulators to restate and re-file their financial statements and those that receive warning or advisory letters relating to non-compliance with financial reporting standards should be required to make an immediate announcement indicating clearly the reasons.
In our view, the poor disclosure of waivers is part of a bigger problem – a lackadaisical attitude towards compliance with listing and regulatory requirements on the part of some issuers. Recent examples of apparent disclosure lapses in issuers such as Spindex Industries and Swiber Holdings raise questions as to whether some issuers and their boards are paying lip service to their disclosure obligations under the listing rules and legislation.
There have been criticisms in some quarters that we have focused too much on compliance or conformance, rather than performance, in our corporate governance efforts. While we agree that good corporate governance requires striking the right balance between compliance and performance, there is still a markedly weak compliance discipline among many listed issuers. If we do not take urgent steps to address the disclosure lapses that are becoming all too common, our disclosure-based regime is at risk of becoming a selective disclosure-based regime.
The writers are, respectively, an associate professor of accounting at NUS Business School where he teaches corporate governance and an active investor who has also been involved in various corporate governance research projects in Singapore and the region.