How to Lose Your Financial Records in 10 Minutes
Published October 04, 2017
By Mak Yuen Teen
Over the years, there have been a number of Chinese companies listed here that have "lost" their financial records when questions have been raised about financial statements. However, it seems that we are starting to see a lack of creativity as some reasons are recycled or are minor variations of previous reasons. I thought they could at least be more creative.
So, here are some reasons that have been used and some reasons that could be used in future….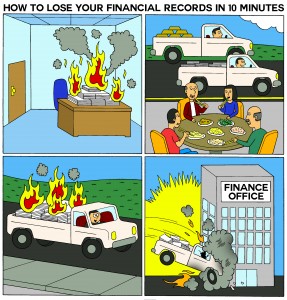 Copyright for cartoon belongs to Mak Yuen Teen
Copyright for cartoon belongs to Mak Yuen Teen
By the way, I am embarking on a project to put together a collection of accounting and corporate governance scandals involving both local and foreign companies listed on the SGX.  I hope to finish this next year. I already have a list but I am sure it is not complete. If you know of such scandals over the past 15 years or so, and have public documents relating to them and are willing to share these documents and your views on them, please email me at bizmakyt@nus.edu.sg.  I will not reveal your identity.
Thank you.
Kind regards,
A/P Mak Yuen Teen